Not the movie. The session I just attended. Wow! I came to this session because the topic is so relevant to school leaders: social media in school emergency management. I was interested in hearing what these school leaders had to share about how best to communicate and engage with their communities in the midst of crisis. What I didn't realize was that I was going to be part of that conversation. Michael Kuhrt (Wichita Falls ISD superintendent) and AASA not only moderated the session but also facilitated a Twitter chat during the session to fully engage the participants. And it was awesome!
One of the common themes from each of the panelists was having structures of communication that would effectively reach your school community and how to integrate social media platforms into those structures. When it comes to crisis, while I would love to have the time to put together a thoughtful letter to my school community, those moments mandate quick and coherent communication — and our social media platforms are a critical part of that work. As Amy Illingworth (assistant superintendent and fellow Twitter chat participant), noted, "It's important to have a plan and to be adaptable. We focus on situational awareness because you can't predict what incident may occur." This is so true — structures and roles are important. But the message and our response need to always be reflective to the crisis at hand!
One particularly insightful comment was from Curtis Finch, Deer Valley Unified School District superintendent who noted that, "you are not going to beat the students or parents or community to Facebook (social media). Our responsibilities as leaders is to get the 'correct' information out in the timeliest manner appropriate."
This session was a part of the Social Media Lounge. This initiative is in its 6th year and was launched to equip superintendents to broaden and strengthen their social media presence. From the learning and connecting that happened in the 60 minutes I just experienced, I'd say mission accomplished! #NCESML1
To see all of the conversation from this session, just type #NCESML1 into the Twitter search bar –– or just click here. By the way, have you ever done a Twitter Chat? If not, you must try one! Here are some tips on how to do it from a Twitter Chat I hosted in December. Some of my favorite leadership Twitter Chats are: #LeadLAP, #SuptChat, #IASASuperWomen!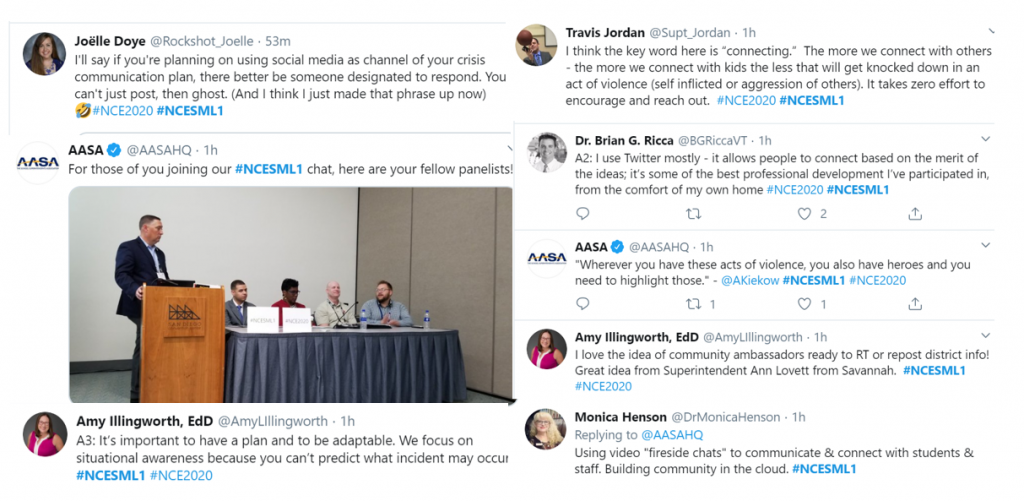 Jill Siler is superintendent in the Gunter Independent School District in Texas. Connect with Jill on Twitter, LinkedIn and at jillmsiler.com.