The College Board is preparing to launch its first AP African American Studies course and wants to ensure superintendents have a true picture of what the course entails.
Two representatives of the College Board addressed an AASA national conference audience on Thursday afternoon in the first of three sessions to set the record straight about a course that has drawn wide national attention owing to objections about course content waged by state officials in Florida.
The governor, Ron DeSantis, and the state education agency in Florida have challenged the College Board over the inclusion of instructional material relating to Black Lives Matter, reparations and other topics.
Gregory Walker, senior vice president of state and district partnerships, along with Brandi Waters, senior director and program manager of the AP African American studies course, addressed a packed conference room, the first of three times they will speak to AASA conference audiences. The pair shed light on the process of how this course came to be and attempted to clarify the expectations for the course framework. They explained why this is a beneficial course for all students.
Waters said the AP African American Studies course is an interdisciplinary course that examines African American experiences through direct encounters. It is based on preparing students for similar courses they will take at the college level by teaching them how to research, develop concrete arguments, problem solve and how to view and understand different perspectives.
The point of the course, Walker said, is to broaden the opportunity for students to learn at an AP level about culturally relevant topics. In addition, instead of the usual end-of-the- year test that gives students only one time to pass, the course will end with a research essay that allows students to collect data on a chosen topic and build a complete argument.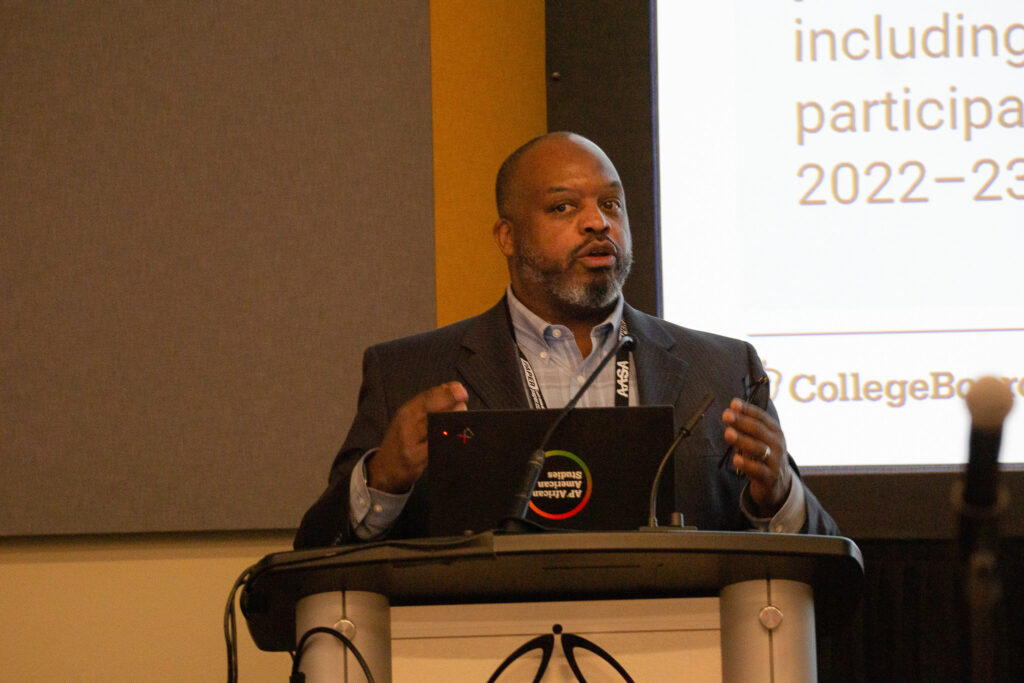 Waters elaborated on the course development process, noting that she spoke to over 133 African American studies faculty members to gather information on the best topics to cover, as well as the resources needed for teachers to help their students succeed.
Teachers were prepared to teach the course by attending informational sessions and through monthly meetings that allowed them to stay up to date with relevant topics in African American studies. Teachers provided feedback on what works for them and their class.
Through intensive planning, rigorous research and feedback from faculty members, the College Board will launch this course during the 2024-25 school year.
The two officials suggested this course not only will give students a look into the complexity and growth of the African American community, but it will increases student engagement, while broadening the opportunity for students who may not consider themselves ready for AP to learn at the AP level.
"We believe this course has value to students everywhere. We would be disappointed if a state prevented a student from participating, but we will not stop, for integrity of course," Walker said.
(Samara Penny is a reporting intern with Conference Daily Online and a junior at Judson High School in Converse, Texas)