The future of education in today's fast-changing world requires leaders who trust and inspire, not command and control. This, said Stephen M.R. Covey, in his keynote address at the 2nd General Session of the 2023 AASA national conference, represents "a profound paradigm shift" that makes inspiring "the new competitive advantage."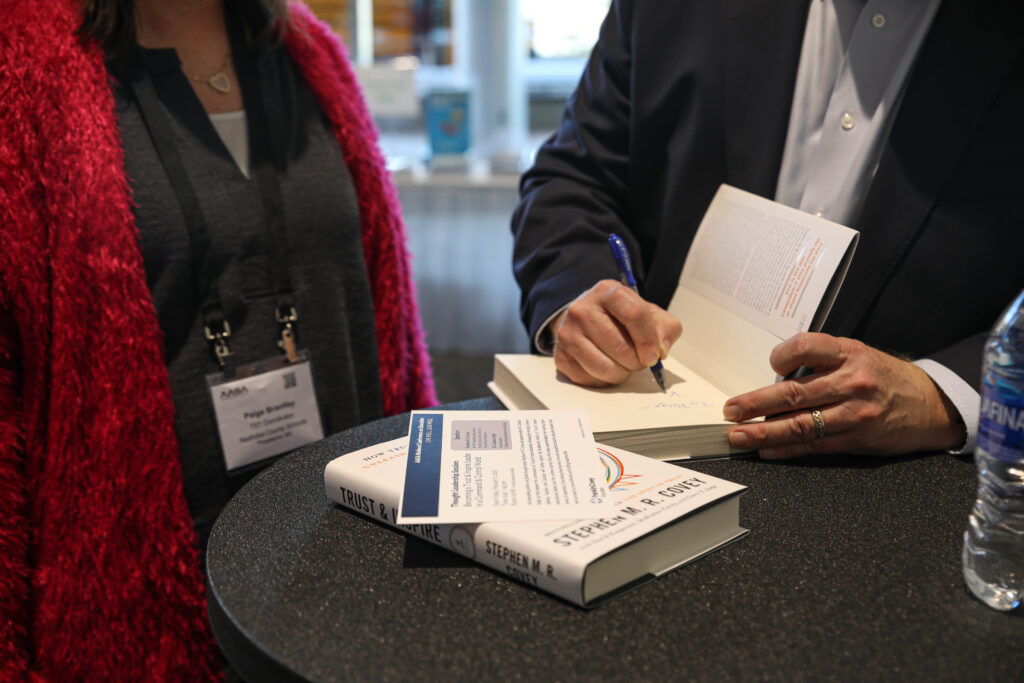 Seismic changes in society include the fact "we have as many as five generations at work with different expectations of how they want to be engaged," Covey said in his remarks Friday morning. Consider also, he said, changing workplaces "where suddenly there are options to work from home or from everywhere."
Moreover, school leaders face disruptive technologies, pandemic impacts, worker shortages and burnout, which "a Gallup poll showed was the highest for K-12 workers, at 44 percent, and for teachers it was 50 percent," Covey said.
In light of these challenges, "to lead in this new world, this new reality, the way we were leading in the past, is not going to work," said Covey, author of Trust & Inspire: How Truly Great Leaders Unleash Greatness in Others.
The imperative is to build a high-trust culture that inspires, which in turn makes an effective school leader "more like a gardener than a mechanic," Covey said.
To do otherwise, to command and control, "is the equivalent of trying to play tennis with a golf club," he said. "The tool you're using, the style of leadership you're employing, is not relevant to the game being played."
According to Covey, "authoritarian command and control" fit well with the demands of the Industrial Revolution, with its focus on efficiency, not people. With emotional intelligence, trust, worthiness and other such traits rising in workplace importance, "enlightened command and control" came into play, but falls short today. "The problem is we didn't shift the paradigm," Covey said.
Change requires understanding the contrasts between the two leadership styles.
Command and control, he said, favors compliance, efficiency, status quo and incrementalism, a fixed mindset, conditioning [workers] and coordination among functional silos. Contrast that with trust and inspire, and its attention to commitment, effectiveness, change and innovation, a growth mindset, developing [workers], and collaboration among flexible, interconnected teams.
Workplaces today are 62 percent enlightened command and control, 30 percent authoritarian command and control, and 8 percent trust and inspire, Covey said, noting the hope for change ahead. "While it takes two or more people to have trust, it only takes one to start," Covey said. "And each of us can be that one."
In asking, "who has trusted and inspired you," he answered for himself referring back to his father, Stephen R. Covey, who in the 1990s gave an AASA keynote address on his book, The 7 Habits of Highly Effective People. Covey said his father often would talk about how he inspired his son to keep the family garden green and clean.
"Before he was a writer and a teacher, he was a trust and inspire parent, and I was that 'green and clean' kid, age seven," Covey said. "He trusted me, empowered me, and I rose up and took care of that yard."
Three stewardships underlie the spark for change, he said, as he asked school leaders to choose their first course of action. As Covey put it, modeling starts with who you are; trusting, with how you lead; and inspiring, connecting to why you lead.
"Start with yourself," Covey said. "Find your why and rekindle the reason you got into education because you care, you're passionate and it's a calling." Connect to your why, he added, "and let that fire light other fires."
(Linda Chion is a senior editor with Conference Daily Online and a freelance writer and editor in Lithia, Fla.)