More than a dozen companies offering products involving air quality or hygiene in schools make up one of the larger segments of new vendors in the AASA national conference's exhibit hall in Nashville.
"As Churchill said, never let a good crisis go to waste," said James Rollins of R-Zero Systems. His Utah-based company was one of multiple companies offering products using UC-V technology, a germ-killing light that has been in use since 1910.
Vendors at the Nashville conference, which drew more than 300 exhibitors, said their devices kill viruses and bacteria, preventing sickness. That's a better strategy than mitigation with chemical disinfectants after illness occurs, they said.
Not only is there more awareness of the importance of air quality and school hygiene now two years into the pandemic, federal money is available through the Elementary and Secondary School Relief Fund.
"This is a once-in-a-lifetime opportunity to improve school air quality," said John Kelly of Airbox, a North Carolina-based maker of air purifiers using extra-thick HEPA filters. "Superintendents have a fiduciary responsibility and a moral responsibility to spend their (ESSER) money right."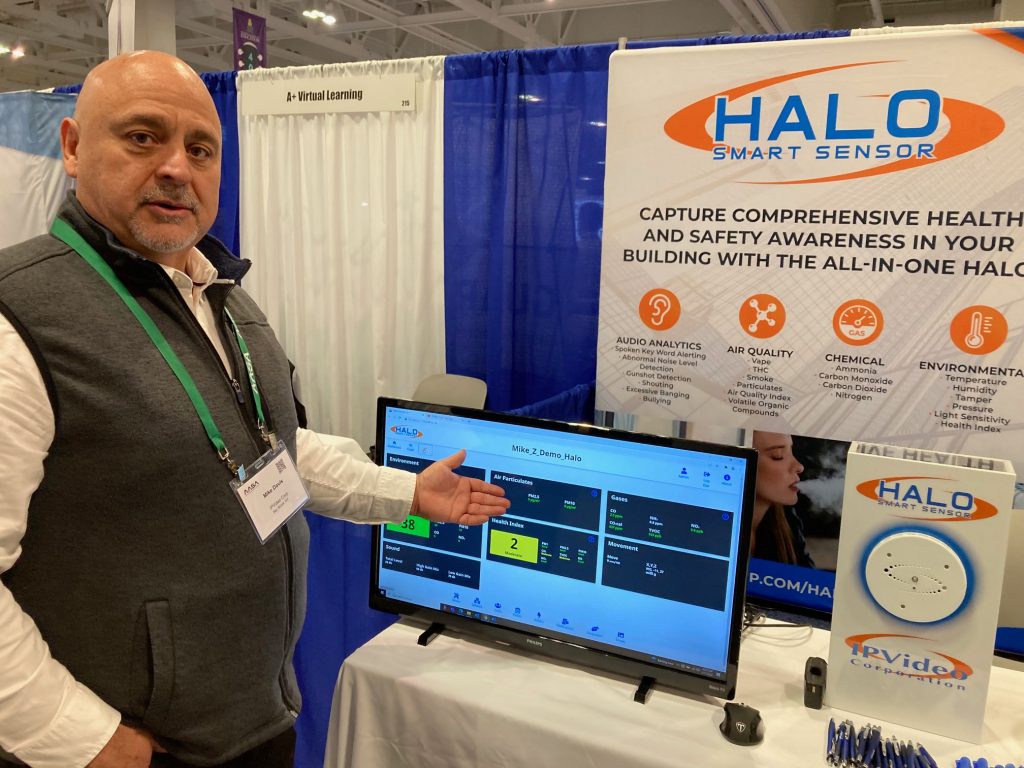 It's just a matter of time before federal or state governments impose new standards for ventilation and school air quality, Kelly and other vendors warned.
Many vendors said they see schools as a growing market for ventilation and air-cleaning products. John Rhee of UBTECH Robotics said his Los Angeles company has raised $1.3 billion over the last five years and has 1,800 employees, half of whom are engineers. One of the company's air-cleaning robots can be seen at booth 332 moving about a mock classroom without bumping into anything. The robots are used in more than 500 schools including all 200 schools in Prince George's County, Md., he said.
Former White House Coronavirus Response Coordinator Deborah Birx is chief medical officer of ActivePure, a Florida air purification company that markets itself as using certified space technology. Its devices use photocatalytic oxidation to destroy extremely small microbes and volatile organic compounds, said Kriss Pavik of ActivePure.
"Always ask for data," advised Ken Bourne, sales director for Aerobotix, an Ohio company that has sold air purifiers to schools in Michigan, Ohio and Washington state. "It's an unregulated market."
And think about optics when making such purchases, advised Dave Branca, account executive for R-Zero Systems. He said his company offers PR help, including recommended messages for staff, families and media.
Other companies offering air purification or school hygiene products or services include 3OE Scientific, INVBL, Cleanwaste, Halo Smart Sensor by IPVideo, Triple S, Lysol, VAASK and White Coat Disinfecting and Indoor Air Quality.
For information on disinfecting technologies, go the website of the American Society of Heating, Refrigerating and Air-Conditioning Engineers at www.ASHRAE.org.
(Eric Randall is a senior editor with Conference Daily Online and editor of OnBoard at the New York State School Boards Association in Latham, N.Y.)