By Kaitlyn Francis |
Members of Generation Z differ greatly from their predecessors through their aspirations, needs and attitudes toward diversity, racism, inclusion, mental health and well-being. As such, educators must adapt their approach toward teaching this new generation.
An AASA conference session, "Increasing Minority Engagement: Strategies for District and School Leaders" on Thursday, Feb. 18, delivered that message.
"Above all else, Gen Z wants inclusive settings," said session panelist Renee Foose, a professor of education at Bowie State University in Bowie, Md. "And they will demand it."
Foose, a former superintendent, contended there is a lack of high-impact instructional practices that promote engagement between teachers and minority students. This can lead to learning problems because of the more limited interaction between teachers and minority students.
Foose said teachers need more help to plan, develop and deliver lessons that are interesting, engaging and relevant. Lessons should entice students to want to learn more about the topic and continue learning outside the classroom.
Generation Z is the first generation to grow up entirely in the digital age. Foose said today's students expect a high-tech classroom and to use technology in a way to connect and freely exchange ideas with teachers, friends and family. They want an education relevant to their future careers.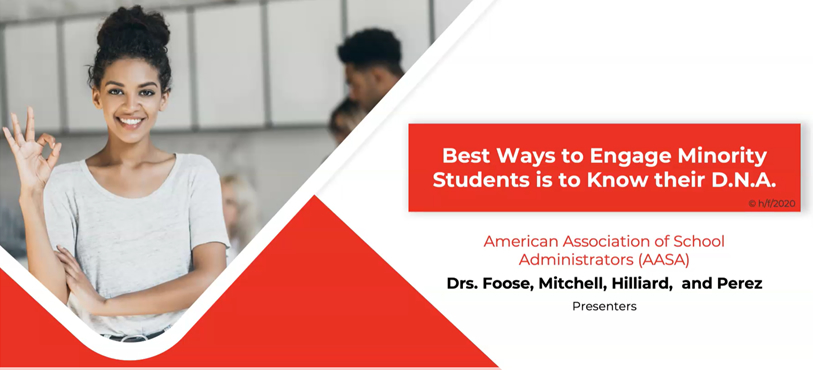 Personalization can be used to engage students, especially minority students, to give them a voice and allow them to be their most authentic self, said Foose.
These students enjoy Instagram, Snapchat and YouTube. These platforms are simple, inexpensive and already in the students' hands, said Foose, and they should be used safely to communicate and connect with students in new ways.
Schools need to adapt their social media strategies and use a blend of traditional and digital approaches because traditional methods of teaching will not keep this generation engaged. Students will thrive in a combination of independent and collaborative group work where they can apply concepts and have exposure to experiential learning and internships.
YouTube is one of the best ways to engage students by using more interesting and shorter segments of a lesson, said Foose. Students can be more engaged by allowing them to be the subject matter experts in the video, by having students re-explain or reteach a topic and then posting it online for students to access later. Students will watch to see their friends, but they will be learning at the same time, she said.
The biggest barriers to this transition, Foose explained, are the educators themselves because of a fear of change, a low tolerance for anything new and a misunderstanding or lack of trust in these new ideas.
(Kaitlyn Francis is a senior in the Philip Merrill College of Journalism at University of Maryland, College Park, and an intern with AASA's Conference Daily Online.)