Working through the negative voice in your head after being bullied. Reconnecting with friends after a suicide attempt. Working through LGBTQ+ issues as a teen.
These are just some of the storylines explored in the animated web series "My Life is Worth Living," a free resource offered by the Cook Center for Human Connection.
The Cook Center focuses on helping students work through their mental health struggles and parents understand how to discuss these difficult topics with their children. Parent Guidance, another resource from the center, offers licensed therapist advice and courses for parents, professional development for staff and mental health webinars and coaching.
One of the many booths focused on mental health in AASA's exhibit hall this year, most of the Cook Center's resources are free — though they offer extended paid services — and can help school districts support their students and parents in connecting with each other.
Although the pandemic has raised awareness of mental health and wellness struggles, many organizations and companies focused on such areas have been touting their services long before COVID's impact hit students and families.
The exhibit hall, located on the Music City Center's 3rd floor, is hosting 306 exhibitors Thursday and Friday. Several online therapy companies have booths in the hall, such as eLuma, E-Therapy, DotCom Therapy and TinyEYE Therapy.
E-Therapy was not created in response to the COVID-19 pandemic, said Director of Sales Kelly Romanovicz, but need for its services has been exacerbated. The virtual therapy company has been offering its services for 13 years — from speech therapy and special education solutions to 1:1 counseling and wellness initiatives, for kids and adults.
"Students aren't the only ones hurting from the impact," said Jon Ebert, e-Therapy's mental health program manager. He added programs can be tailored to specific districts' needs.
Community providers have been overwhelmed since the onset of the mental health crisis associated with the pandemic, added Romanovicz. That's why adding virtual options can help school districts serve their students in need.
Ali Coffey, director of sales at DotCom Therapy, added her company uses employees whose benefits and salaries are paid by DotCom, a solution that helps school districts save money on what can be a pricey endeavor — hiring mental health professionals in schools.
Some exhibitors' programs take a student-to-student approach.
Working on suicide prevention, Hope Squad is a peer-to-peer system that employs student ambassadors, chosen by their peers, to speak up when necessary.
"The key is empowering young people because kids talk about it," said Gregory Hudnall, founder of Hope Squad. "We adults are afraid to talk about it."
As former superintendent in Provo, Utah, Hudnall noticed while seven out of 10 students tell a friend they plan to commit suicide, those friends rarely share the information with adults.
Hope Squad educates students on how to talk to one another, and that "it's OK to ask for help," he said, while training the student ambassadors on self-care, boundaries and getting help from adults. In the 19 years Hope Squad has been partnering with school districts, over 10,000 students have been referred for help.
One booth focused on changing school cultures is Orange Frog Workshop, a positive psychology training program that partners with AASA. The program, based on Shawn Achor's book The Happiness Advantage, trains employees on embracing a positive mindset through a parable about an orange frog named Spark.
Joel Pedersen, superintendent of the Cardinal Community School District in Eldon, Iowa, implemented the program in 2015. He said having this foundation and culture in his district better prepared them for dealing with pandemic-related issues — though he emphasizes simply putting on a happy face is not the goal; rather, being prepared to deal with challenges with a positive, solutions-based approach.
In the last year, due to growing need, the district expanded the programming from employee trainings to parent and student lessons, and plans to include community members as well.
Pedersen said he believes the "next frontier for school districts is culture and employee health." Cardinal CSD has implemented "Project Spark," which includes yoga and walking clubs, meditation and other employee benefits.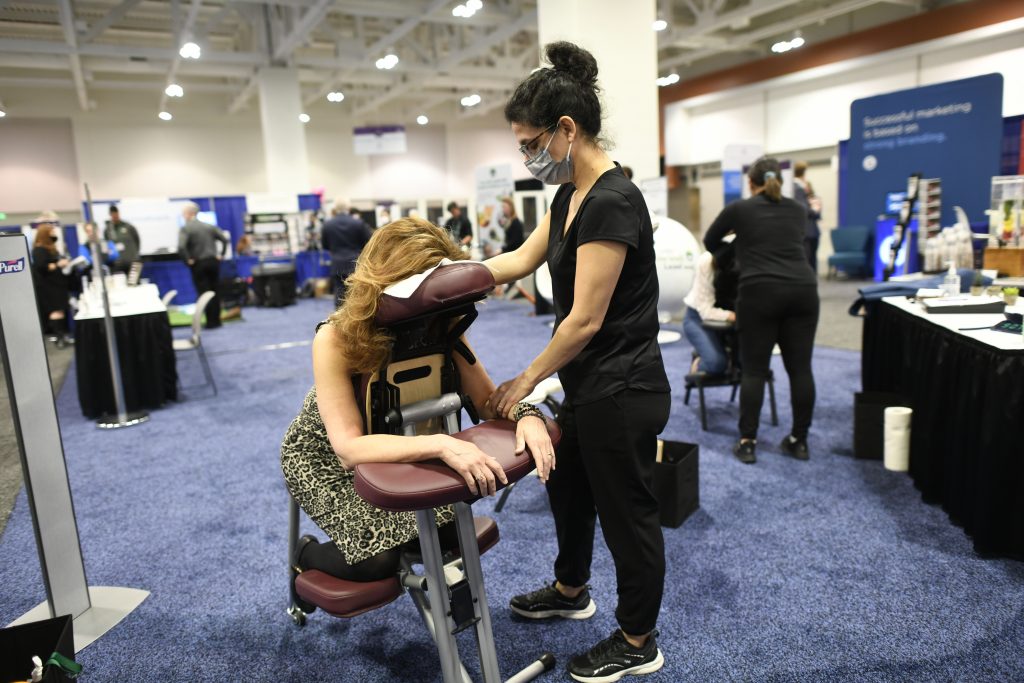 Pedersen said having "the common language and common tools, from bus driver to kitchen worker to parent to principal" is one of the biggest benefits of the program. Plus, its implementation is fun. "Orange Frog has a special way, I think, of connecting with everyone."
AASA has also recognized the need for attention to mental and physical wellness with the launch of this year's campaign, "Live Well. Lead Well." AASA President Paul Imhoff, superintendent in Upper Arlington, Ohio, emphasizes the idea that leaders who are not well can't lead, and so on with teachers and students.
"It is not an indulgence to attend to your own wellness," said Imhoff, who stopped by AASA's Wellness Center in the exhibit hall to pet the puppies sleeping and playing there.
Other things to do in the wellness center include getting massages, biking to produce your own smoothie, drinking refreshing fruit-infused waters and resting in nap pods with classical music.
Derrick Coleman, superintendent in River Rouge, Mich., took advantage of the massage option, having expressed to a colleague hours before that he needed a massage.
Coleman's district places a "huge emphasis on trauma, wellness and healing," he said, and offers wellness options like this for staff.
"To see it here was a welcome change from the kind of stuff you usually see," Coleman added. Though it was a short massage, said Coleman — who exercises, meditates and stretches regularly — he got great benefit out of it.
Plus, it's not uncommon to find stress balls and toys as the exhibitors' goodies, helping attendees relieve their own tensions as well.
Imhoff said though the last two years have been the most difficult of many superintendents' careers and lives, there is hope: struggles are now discussed openly, and leaders are leaning on one another. "No one is alone. We are all going through it."
(Jacqueline Hyman is managing editor of Conference Daily Online and senior editorial assistant of AASA's School Administrator magazine.)