Keeping students and staff safe is a priority that's been at the forefront of everyone's minds lately. From preventing tragedy like school shootings or suicides to responding to medical and personal emergencies, exhibitors at the National Conference on Education in San Antonio this year are showcasing products and services to bring ease to school districts.
Those service and product providers expected to see plenty of traffic during the two days of the exhibit hall.
"Any safety issue typically stems from some type of trauma," said Parkhill Mays, CEO and co-founder of STOPit Solutions, one of several dozen booths addressing health and safety needs at the 2023 conference.
The company offers a platform with features such as an anonymous reporting system, threat assessment training, a 911-direct panic alert system and more. Crisis response notification systems are a common product available to school districts.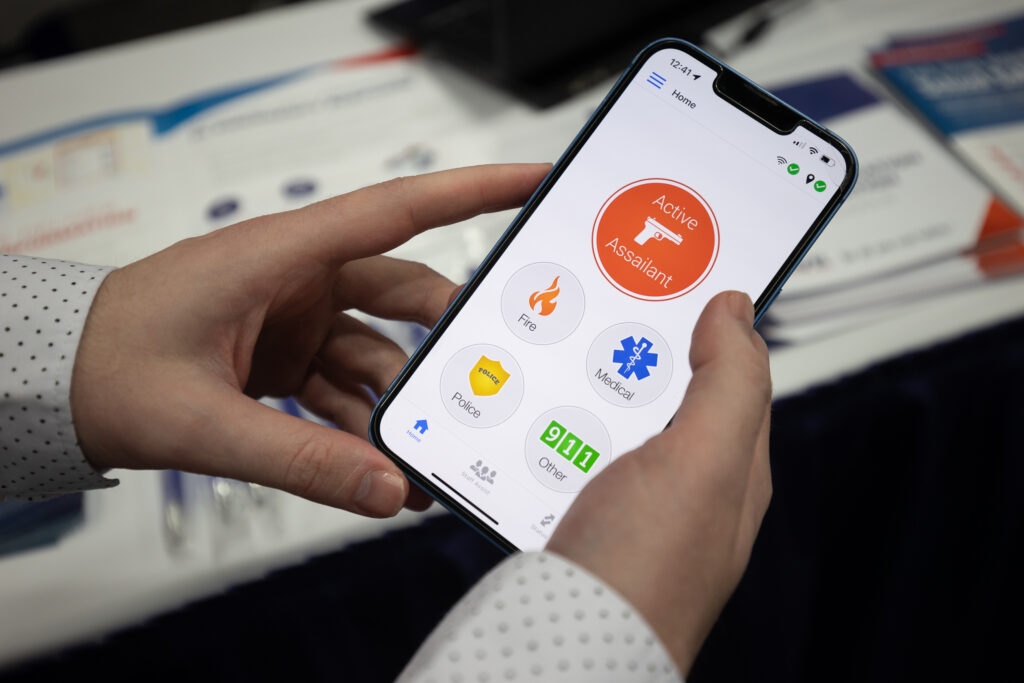 Another exhibitor, Rave Mobile Safety, founded over 17 years ago, showed off a silent panic button in a phone application that connects districts with first responders and emergency services. The device allows teachers to input their status and notes about what's going on in their classrooms and sends constant updates to the necessary teams within the school district.
Though school shootings often are more publicized than other incidents, Anthony Piccoli, a team lead and local K-12 account executive for Rave, said about 95 percent of activations of their system are medical emergencies.
Another system on display, CENTEGIX, uses physical badges for all school staff to wear. Rather than relying on WiFi or cell phone data, the badges use low-data Bluetooth to find the wearer's precise location when the button is pressed.
The button on the badge has two capabilities: a low-level alert to administrators or necessary staff (such as when dealing with a medical emergency, fight or similar situation) and a lockdown option that triggers a message on the PA system, flashing lights throughout the building and a screen takeover for any school devices.
A key feature of this system, said Regional Vice President Carly Smith, is that it doesn't interrupt instructional time for the whole building if a day-to-day emergency only applies to one classroom or area.
The Douglas County School System in Douglasville, Ga., uses CENTEGIX as a safety tool on its campuses. Superintendent Trent North, a finalist for this year's National Superintendent of the Year Award, said the system allows easy communication with law enforcement and the ability for each employee to activate a lockdown.
"[It] increases the likelihood that everyone will be safe, and that's what I love about CENTEGIX," said North, who specifically appreciates the system's tracking of staff's precise location on each mapped-out campus during an emergency.
STOPit Solutions is also promoting its relatively new brand, HELPme, which focuses on the mental health aspect of school safety by providing 24/7 crisis counseling and other resources.
"We're the eyes and ears on problems that kids have," added Mays, who said most crises happen outside of school hours.
Navigate360, a company that takes a holistic approach to safety and wellness, emphasizes the need to look at the whole child and many facets that affect safety in schools.
"When you think of safety, it's not just fortifying your doors with metal detectors, it's about fortifying your students," said Ricardo Rangel, solutions consultant at Navigate360.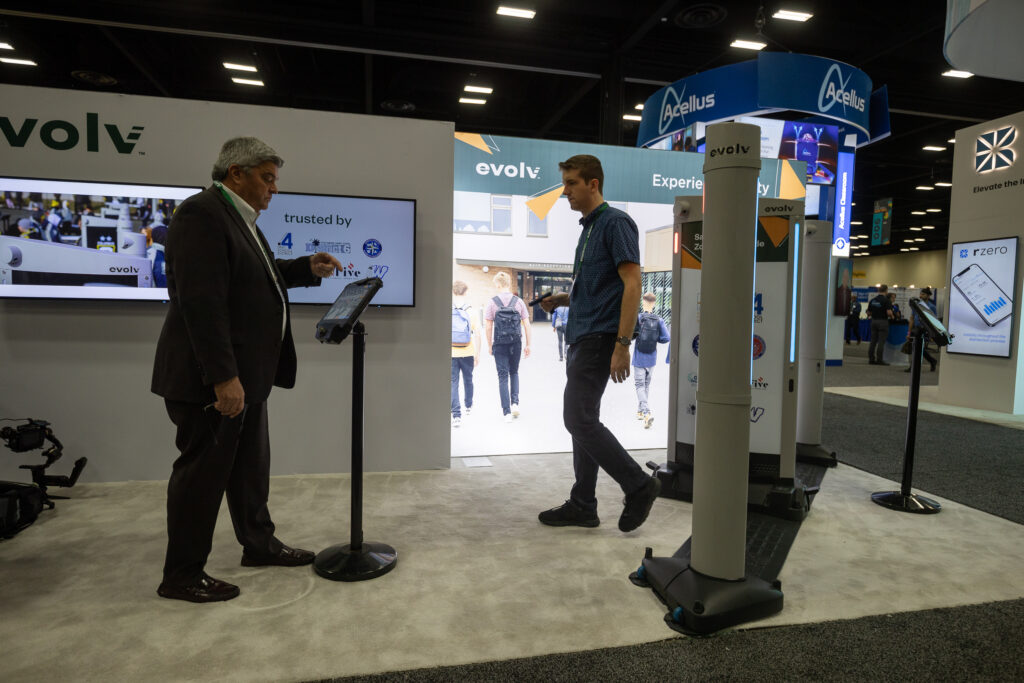 Navigate360 helps districts assess their operations using data from emergencies, drills and more. This allows school systems to figure out what they are doing well and in which areas they may need more resources or services to support students and staff.
Each of these systems offers personalization to district-specific needs or wants, often even going to the school level. They also have a way for the district team to review data gathered from their platforms or reports.
Other offerings in the exhibit hall include physical solutions to safety concerns, such as Nightlock Lockdown, which makes school door barricades and blackout window shades, and Evolv, a company that provides weapons screening technology.
These products create solutions for the more visible threats to campus safety. Nightlock's products are stored in boxes near the doors for easy access to install in a quick motion during an emergency. Joe Taylor, co-owner and co-founder, pointed out that this helps with code compliance.
Evolv's artificial intelligence-based scanning uses a digital platform to show still and action images of everyone passing through. It also streamlines the typical security process because people don't need to remove phones or other electronics from their bags.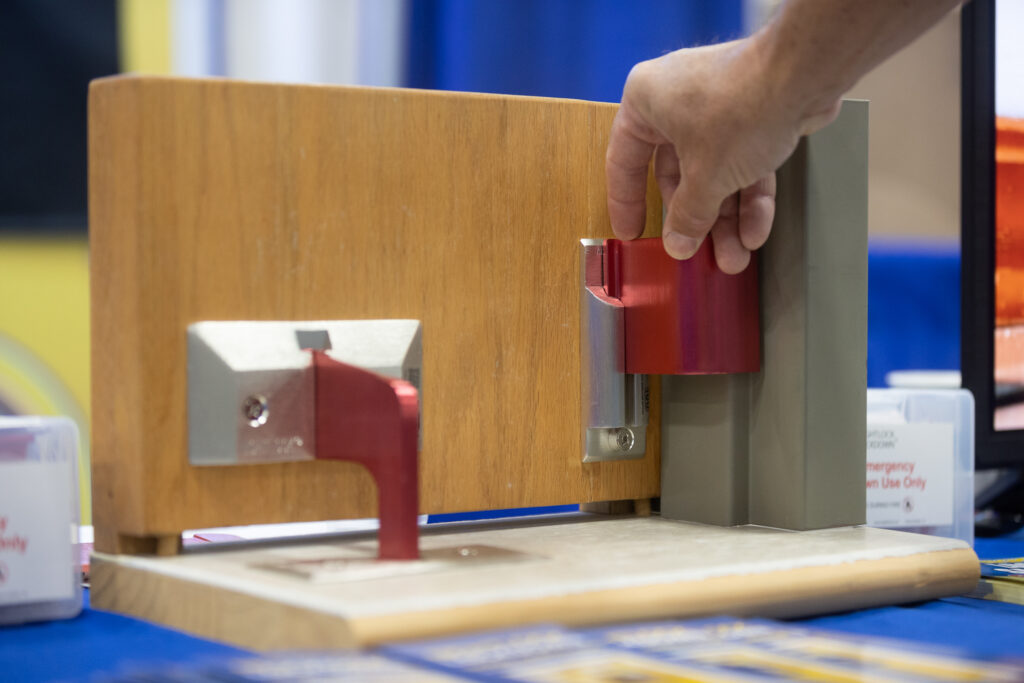 Additional companies offer monitoring systems at the conference exhibit hall included Gaggle, founded in 1998, a content analysis filter for students' Google, Microsoft and other school accounts. Districts can determine the keywords they'd like to monitor — the most common topics being suicide, bullying, domestic abuse and pornography. It also has an image scanner that can look out for images of weapons.
Sometimes, said regional sales managers Rocco Gasparo and Shari Grayson, students use the system to report things they've seen on social media by uploading screenshots into their school email accounts.
And SchoolPass, an automation system for dismissal, visitor management and attendance, aims to "help schools understand who is on campus at any given time," said sales engineer Ben O'Clair.
Using IDs, QR codes or even RFI fobs, an entire school campus' population will be accounted for at all times. Parents can access the system to make temporary changes, visitors are signed in with immediate sex offender checks and wellness scans, and car license plates are checked against the system for known visitors and parents.
Given this wide array of services, whatever a superintendent or district's school safety needs, they're sure to find plenty of solutions at the conference exhibit hall, located on the first floor of the Henry B. Gonzalez Convention Center.
(Jacqueline Hyman is managing editor of Conference Daily Online and senior editorial assistant of AASA's School Administrator magazine.)