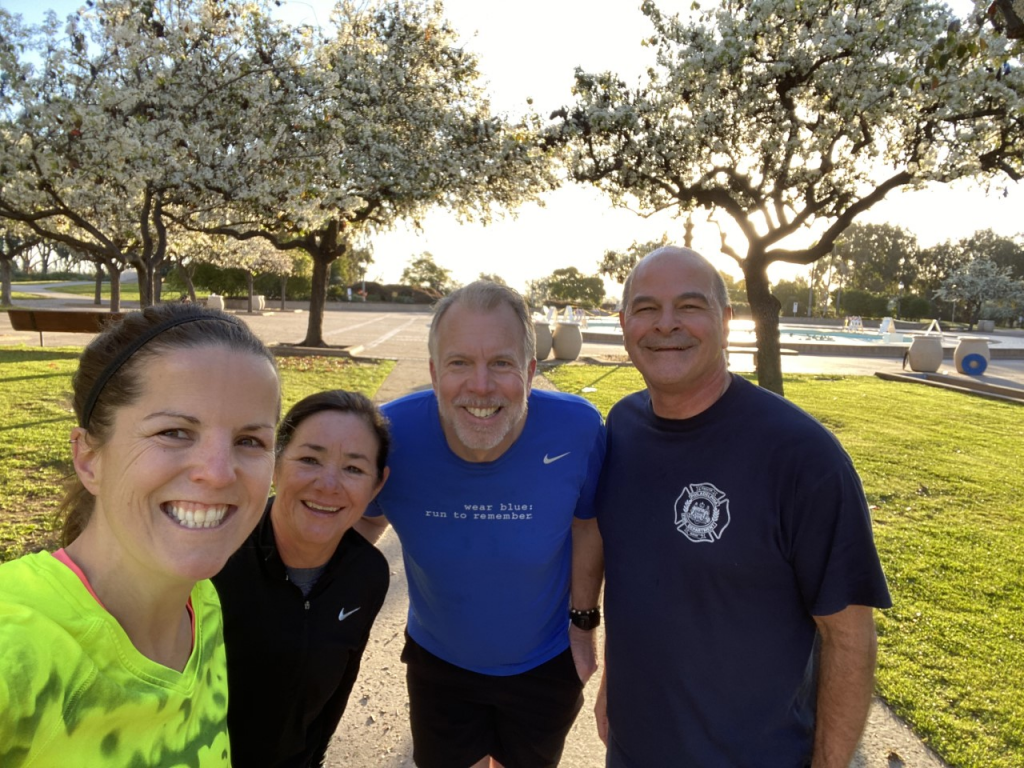 A few assorted odds & ends captured by reporters with Conference Daily Online at AASA's 2020 National Conference on Education in San Diego.
Early Risers in a Workout
Nearly a dozen superintendents attending AASA's 2020 conference awoke with the San Diego sun on Wednesday for some #freefitness with a local running community known as November Project San Diego.
The school leaders were part of about 50 individuals who went through a workout consisting of running, body weight exercising and cross training activities at San Diego's Balboa Park. The AASA conferees were organized by Noelle Ellerson Ng, who oversees public policy for the association.
Don't worry if you missed out. There's another workout opportunity set for Friday. Meet in the lobby of the Marriott Marquis at 6:15 a.m. "We'll be working out at 6:30 near the convention center," says Noelle. (Contact her at nellerson@aasa.org if you want more information.)
A Toast in Memory of Peter Corona
Joel Corona, whose late father Peter attended the last 62 AASA conventions, suggested it might be fitting for AASA staff to raise a toast in his father's honor in San Diego's Little Italy, where Peter was born and raised.
His father, a lifelong California school leader, passed away following a major stroke two weeks after AASA's 2019 national conference in Los Angeles.
AASA staff colleagues Jimmy Minichello, who oversees communication for the association, and Jay P. Goldman, editor of School Administrator magazine, did that over an Italian meal in the heart of Little Italy on Tuesday night, raising their glasses to a distinctive attendance mark probably never to be matched.
Joel Corona shared his suggestion a few days in advance of this week's AASA conference: "As with most toasts about our departed, those toasts remind us about the best of us and about mutually favorable influences. He will appreciate that, and it may bring us all good luck. One axiom that my father repeated during his life was, 'the harder you try, the luckier you become.' Peter felt he was a pretty lucky guy."
Hidden Humor to His Colleagues
In his region report to the AASA Governing Board on Wednesday, Brian Toth, superintendent in St. Marys, Pa., said he and his colleagues "requested increased support for mental health services, especially for superintendents."
It was intended as humor among his fellow superintendents in the middle of an otherwise serious report on federal education priorities. It did draw a few chuckles, to which Toth replied, "I'm glad you're awake. … No one here from Pennsylvania was surprised I tried to make a joke."
(Compiled by Jay P. Goldman, editor of AASA's Conference Daily Online)