The 2018 Dr. Effie H. Jones Humanitarian Award, given annually at AASA's National Conference on Education, will be presented to two educators on Friday, Feb. 16.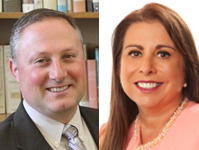 The recipients are:
The award recognizes leaders who exemplify the leadership qualities modeled by the late Effie Hall Jones, an educator in Montgomery County, Md., and a former AASA associate executive director in the 1980s and early '90s.
Complete details about the award recipients can be found in the official AASA press release.
(Jay P. Goldman is editor of Conference Daily Online.)