By Amanda Paule |
During her first year as principal of a high school in East Texas, Georgeanne Warnock listened for the first time to a panel of students who spoke about their experiences in school and their expectations for the future.
"It was earth-shattering to me the things that they shared," Warnock said during the AASA conference session "Listening as Leadership: Centering Student Voice to Drive Equity and SEL" on Thursday, Feb. 18.
(View a short video clip about this presentation.)
Warnock decided her school would replicate the discussion panel for all 2,200 students at her school. It took three months for every student to have the chance to participate as part of a 15-person student panel, but the result was transformative. The insights provided by students informed Warnock and her colleagues as they moved to restructure the school, to change how they aligned their counseling staff and to remove barriers students faced when accessing school resources.
"What we thought we had set up wasn't really working for kids, and we didn't know that until we sat and listened to them," she said.
Warnock said she strives to bring this same attention to student voice into her current work as superintendent of Terrell Independent School District in Terrell, Texas. This spring, Terrell ISD is partnering with YouthTruth, a national nonprofit that conducts student-experience surveys, to generate data on the school's performance through student perceptions.
YouthTruth's goal is to work with educators to use student data "to illuminate and eliminate inequities in our schools," said Jimmy Simpson Jr., the nonprofit's manager of partnerships and a co-presenter at the conference session.
YouthTruth has surveyed nearly 1.6 million students nationwide since 2008 and has reported data on a variety of nationwide trends of inequity in schools. In one poll, YouthTruth found white and Asian students are significantly more likely than their Black peers to report that their teachers try to be fair and respect people from different backgrounds.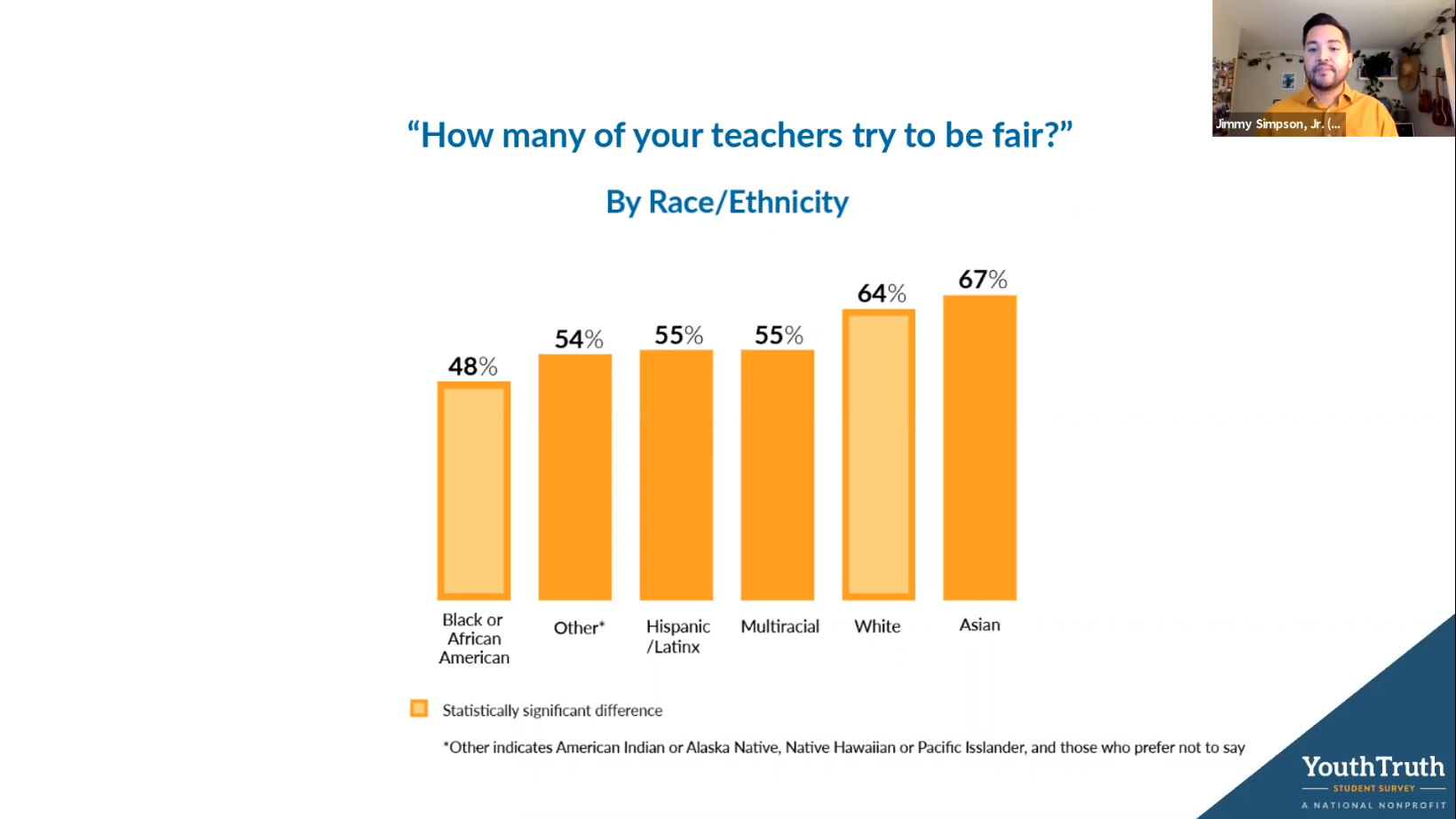 In its research, YouthTruth also found students in general education are more likely than students in special education to say their peers are friendly and that gay and bisexual students are twice as likely than their straight peers to report having suicidal thoughts.
"We cannot blame individual students for not being resilient or not having enough grit, and it's not enough to discipline or 'fix' one bully. We have to tend to the pond and the groundwater," Simpson said, indicating schools must meet systemic problems with systemic solutions.
Warnock said the resources provided by YouthTruth and insights provided by student panels have helped her schools recognize the inequities in their system and develop solutions, such as running anti-bullying awareness campaigns or incorporating more diverse representation into course curriculums. She hopes those actions will help Terrell ISD achieve student-experience parity not seen in the nationwide trends.
"You never know what that trend looks like in your schools or your district until you ask," Simpson said.
(Amanda Paule is a junior magazine, news and digital journalism major at Syracuse University's Newhouse School of Public Communications and an intern with AASA's Conference Daily Online.)