The editor in charge sometimes refers to it as "the daily miracle."
He's referring to the publication you're looking at right now.
For the several thousand AASA conference participants who've bounded about the Music City Center this week in Nashville, it's known as Conference Daily Online, the newsy vehicle published by AASA that keeps everyone informed about developments major and minor.
Each day since Wednesday, the publication's website and daily e-newsletter have carried news stories about keynoters, topical sessions, award recipients and signature events such as the Effie Jones Luncheon and the race for the AASA presidency, plus short video clips, photos and daily blog posts by four superintendents attending the conference. Even the mundane but essential — late-breaking changes in the program — are included.
The miracle aspect of the daily operation stems from the staff's makeup. While led by a handful of AASA professionals, what truly has powered the coverage is a remarkable set of six student interns — half of them scholastic journalists and half collegians. They've contributed excellent reporting and several outstanding video clips each day while battling the tightest of deadlines.
Heading the operation as editor-in-chief is Jay P. Goldman. He's the editor of AASA's School Administrator magazine the rest of the year, and he's been joined on site by magazine colleague Jacqueline Hyman as managing editor. (A third magazine staffer, Liz Griffin, has worked as a proofreader back in Washington, D.C.) Jimmy Minichello, AASA's director communications, has produced multiple videos every day and helped interns produce others.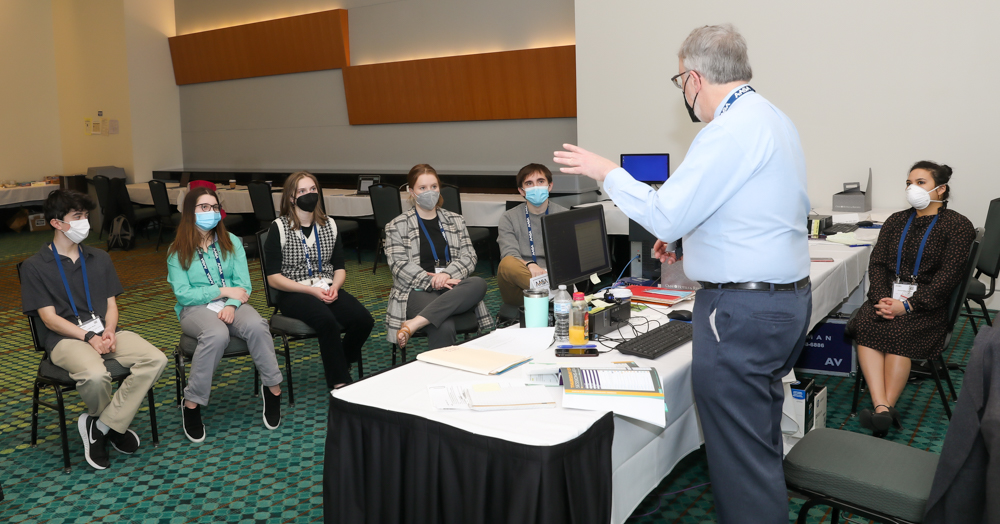 Other adult pros contributing to Conference Daily Online have been Stephanie Compton of Penrose, N.C., as digital editor; Michael Ellson, a digital arts teacher at Christ Presbyterian Academy in Nashville as assistant videography coordinator; and Eric Randall, an editor with the New York State School Boards Association, as senior editor.
Two school district communications director — Kate Crowder of Germantown, Tenn., and Lisa Trail of Murfreesboro, Tenn. — volunteered as reporters at topical sessions.
The hard-working interns: Sarah Maninger, senior at Belmont University; Roman Nikolaev, a junior at Vanderbilt University; Kahwit Tela, a junior at Lipscomb University; Selah Oden, a junior at Martin Luther King Jr. High School in Nashville; Ava Sjursen, a junior at Harpeth Hall in Nashville; and Logan Reid, a junior at Christ Presbyterian Academy in Nashville.
Adding to the coverage with their distinctive ground-level view of conference activities were four AASA members who served as our bloggers: Peter Blake of Rome, N.Y.; Steve Matthews of Novi, Mich.; Kimberly Pietsch Miller of Columbus, Ohio; and Jill Siler of Austin, Texas.
Goldman, a veteran of 32 AASA national conferences (including 15 years when the staff published a 20-page print newspaper for four consecutive days), said he's always amazed how a small contingent of professionals in education and student interns can come together so productively each year. "I'm grateful at just how diligently everyone contributes, uncomplainingly, despite the time pressures and late hours," he said.